Registration
Important Dates
| | |
| --- | --- |
| Registration Open | October 4, 2017 |
| Advance Registration Deadline | April 10, 2018 |
| Cancellation Deadline | April 20, 2018 |
The ICCN 2018 Secretariat encourages online registration for the Congress and all Courses. Delegates and guests may also register by completing and mailing or faxing the PDF registration form. All registrations will be confirmed via e-mail. If you do not receive an email confirmation within two weeks of submission, please contact the ICCN Secretariat at +1-414-918-9803 or ICCN2018@acns.org.
Registration Fees: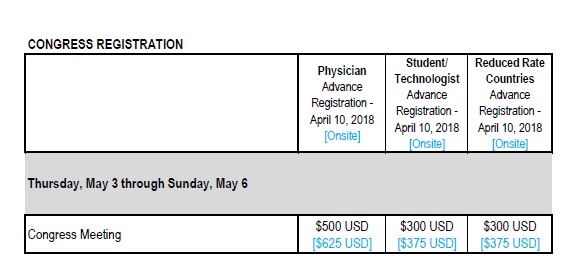 What's Included:
Course Registration is a la carte, meaning that delegates must register for each course separately. Courses begin on Tuesday, May 1, 2018 at 8:00am and run through 10:30am on Thursday, May 3, 2018. Coffee breaks are included in course registration fees, but breakfast and lunch are not provided on Tuesday, May 1 or Wednesday, May 2, 2018.
Congress Registration includes entrance to all sessions general sessions, symposia, SIGs, platform and poster sessions beginning with the Opening Ceremonies at 11:00am on Thursday, May 3 through Sunday, May 6, 2018. Also included in the Congress registration fee is entrance to the exhibit hall, coffee breaks, lunches and the Welcome Reception. Tickets to the Gala Reception are an additional cost.
Reduced Rate Country Registration
Click HERE for a list of countries that qualify for reduced rate registration. Delegates that qualify may register online or by submitting the registration form.
Guest Registration
Guests of ICCN 2018 delegates age 18 and older may register to attend the social components of the ICCN program, including the Welcome Reception on Thursday, May 3 and the Gala Reception on Friday, May 4, 2018. Entrance to the scientific sessions, the exhibit hall (except during the Welcome Reception), and meal functions is not included in guest registration fees. Sorry, no exceptions will be made.
For more information regarding the ICCN 2018 social events and available Washington DC tours, please visit the Social Events page.
Invitation Letters
Delegates requiring official Invitations letters to complete their visa applications may contact the ICCN Secretariat at ICCN2018@acns.org.
Wire Transfers
Delegates may pay ICCN 2018 registration fees via wire transfer. Please contact the ICCN Secretariat at ICCN2018@acns.org for wire transfer information. Please note that some financial institutions charge a processing fee, which is deducted from the amount of the transfer. Partial payment may result in an incomplete registration.
If paying via wire transfer, please ensure your name is included in the reference from the bank or email ICCN2018@acns.org to alert us of the incoming wire transfer. Delegates may be asked to pay outstanding balances upon arriving onsite, no exceptions.
Cancellations, Refunds, and Substitutions
All cancellations must be received in writing. Delegates may fax their cancellation requests to +1-414-276-3349 or email it to ICCN2018@acns.org. Delegates will receive a confirmation and refund within 14 days of receipt of their cancellation notice. ICCN will grant a full refund, less a 10% processing fee, for cancellations received in writing on or before April 20, 2018. No refunds will be granted after April 20, 2018.
Name substitution requests must be made in writing prior to April 10, 2018. Any name substitutions made onsite will result in a $75 processing fee. If the original registrant shows up at the meeting, he/she will be responsible for a new onsite registration fee.